V Steam kit

Sale
$39.99

Regular price

$65.00
Sku: SKU98753
Available: Available
Currently there are
peoples are currently looking at this product
Yoni steaming (aka vaginal steaming) is an ancient practice that provides gentle and effective support for women's wellness.
Herbal steam supports and regulates the natural feminine cycle, and helps to heal and detoxify the body.
May assist with prevention of menstrual cramps.
Treat yourself to a blissful self-care ritual in the comfort of your own home.
This carefully crafted blend includes only 100% organic and fair trade herb.
A yoni steam (aka. vaginal steam, v-steam or bajo) provides gentle and effective support for women's wellness. Respected by women and holistic healers around the globe, yoni steaming is the ancient practice of allowing the warmth of herbal steam to softly permeate the exterior of the vagina. This women's treatment gently but effectively cleanses, tones and revitalizes a woman's center, providing a myriad benefits from reduced menstrual cramps . Support your natural feminine cycle, help your body to heal, relax, and detoxify both physically and emotionally with a yoni steam. Treat yourself to this delightful self-care ritual in the comfort of your own home! The Ovulhealth steam is a carefully crafted blend of yoni steaming herbs that includes the highest quality, aromatic, toning and healing herbs available. All herbs are certified organic, fairly traded and kosher.
Ingredients:
Folium Artemisiae -Warm meridians and stop bleeding, dispel cold .
Motherwort -Activate blood and regulate menstruation, promote diuresis and dissolve edema, clear heat and relieve toxicity.
Safflower-Activate blood and dredge meridians, dispel stasis and alleviate pain.
Flos Rosae Rugosae-Actions-Regulate the flow of qi, dispel melancholy, activate blood and dissipate blood stasis.
Lavender-Clear heat and remove toxicity, expel wind and relieve itching.
Flos Albizziae-Induce tranquilization and relieve depression
Aloe-Relax bowels with purgative, clear liver fire, expel ascarid.
Dried Ginger-Warm the middle and dispel cold, restore yang and unblock meridians, warm lung and resolve retained fluid.
When To Yoni Steam
The following conditions are considered the best times of the month to yoni steam. To determine if yoni steaming is right for you and when to yoni steam consult your health care provider.
Yoni steam before ovulation or insemination, once, if you're trying to get pregnant, but not if you suspect you are pregnant. This holds true for most Assisted Reproductive Therapy (ART) treatments as well.
Yoni steam on the new and full moons, bringing awareness to the moon cycles, or to help bring back a late or lost period.
Yoni steam as a ritual cleansing, perhaps a few cycles post trauma or miscarriage. Be sure to keep a journal of your experience, and have a support person to reach out to in case of need.
Yoni steam to help heal painful menstrual cramping, if there is spotting or brown blood before menstruation begins, or if PMS is present. In this case yoni steam at a maximum of 1-7 times per month, the week before the period begins. (Think preemptive care!) The warmth of the steam helps with blood, nutrient and hormone flow.
Yoni steam post-menopause, seasonally, or as needed for pain or dryness. An important note, due to the heating quality of the steam, this can aggravate hot flashes. It is common to see some blood or discharge a day or two after steaming, even after a woman has entered menopause.
Yoni steaming is magical and powerful but it is not a miracle cure. It can aggravate some conditions and especially if there is a long standing imbalance. It's important to know when to yoni steam and when not to yoni steam. Working with a qualified health practitioner will ensure it is done safely and effectively.
Usage:
1.Put 1 steam bag into the pan.
2. Adds 250ml water and Boil water for 10 minutes or use hot boiled water to Soak for 10 minutes.
3.Pour water into pan, and sit for 10 minutes to steam vagina.
4. You can wait until the water temperature is luke warm, and use the water to  wash for 10 minutes.


These statements have not been evaluated by the Food and Drug Administration. This product is not intended to diagnose, treat, cure or prevent any disease.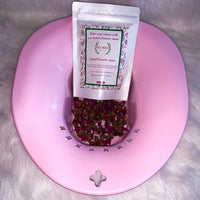 V Steam kit